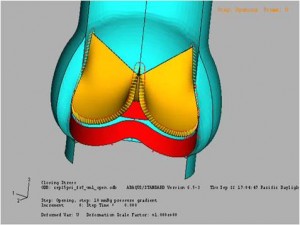 I was given the opportunity to discuss the State-of-the-Art Computational Modeling for Cardiovascular Devices at the FDA/NHLBI/NSF Workshop at the FDA White Oaks campus in Silver Spring, MD.
A number of colleagues contributed examples of their work in the field so I was well prepared and excited to share what's on the cutting edge.  Hengchu Cao at Edwards LifeSciences, Inc, shared the image on the left so I could talk about the latest advances in solid/fluid structure interaction and the design of heart valves.  They use computational modelling at Edwards to optimize heart valve design hemodynamics, blood compatibility, structural reliability and anti-calcification.
You may download my complete presentation here.